Cambia contributes TMW to Yale project
Architecture has been taught at Yale University since the late nineteenth century. After many years of change and evolution in the programming at the college, the Yale School of Architecture was deemed its own separate professional school in 1972. Yale's architecture program sets a mandate for each student to "understand architecture as a creative, productive, innovative, and responsible practice."
Yale School of Architecture students take part in programs like the Jim Vlock Building Project, which is a required component of the curriculum, that focuses on design and construction of homes in economically distressed neighborhoods. This year students designed 1,000 square foot houses that were located on a narrow lot in New Haven. The challenge for students was to keep the design cost-efficient and flexible for the narrow lot. These homes were designed in partnership with NeighborWorks New Horizons and HTP Ventures, LLC.
The home's opening ceremony was on September 26, 2016.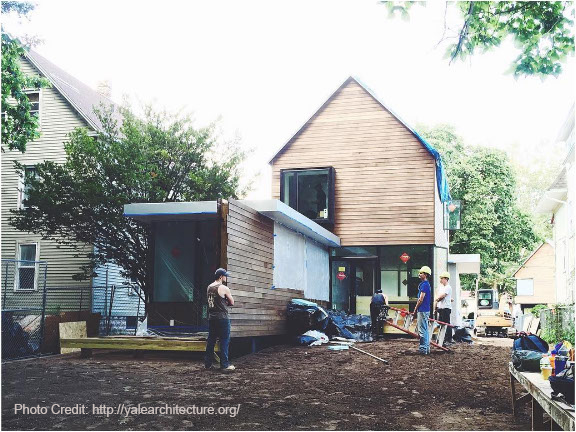 Students initially worked individually on a prototype, then 8 of these projects were selected to move forward. Those designs were then fleshed out to final design proposals. One project is chosen from the 8 to then work as a class to construct on site. The chosen design was from Team E, which can be seen
here
.
Cambia, along with other various donors, were able to help make this project possible by donating products to for use in the construction of this home. Cambia donated thermally modified poplar 6" shiplap siding for the exterior and interior walls of the structure. We were honored to be part of this project to assist the community in this way as well as help build up the next generation of architects at Yale.
More information on the 2016 Jim Vlock Building Project can be found here.
Information about the Yale School of Architecture can be found here.
Back To Posts